GenerAction Week Purpose
GenerAction Week seeks to encourage thousands of college-aged students to engage in volunteerism and social awareness. In coordination with esteemed guest speakers and respected service organizations, the program works to help youth identify passions in new philanthropic areas with the end goal of planting the seeds of lifelong philanthropic commitment.
The motto of the week is "Find your cause. Take Action."
GenerAction Week 2010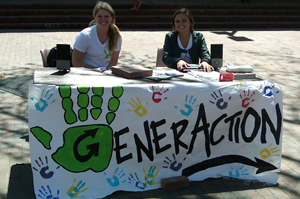 GenerAction Week 2010 in Chapel Hill was the launch of the GenerAction Movement. Throughout the week of April 5-11, community organizations and other youth-led ventures were featured at prominent locations around the UNC-Chapel Hill campus. Students were encouraged to check out the variety of organizations offering service opportunities and the multitude of ways to get involved. Over the course of the week, creative service opportunities were offered on campus, at Fraternity and Sorority houses and at off-campus locations. In addition, GenerAction hosted its Social Action Speaker Series, including addresses from Liz McCartney, 2008 CNN Hero of the Year; Clare Richardson, President and CEO of the Dian Fossey Gorilla Fund; and UNC's own Ralph Byrns, professor of Economics. In total, close to 1,000 UNC students participated in GenerAction Week service projects.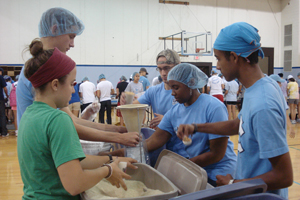 GenerAction partnered with local organizations to bring creative service opportunities to the UNC campus and Greek houses, while also facilitating additional off-campus volunteer opportunities. Existing organizations on campus, whether they are social, academic, athletic or interest-based in nature, were given the opportunity to further design their own service projects based on their own passions and priorities. All of the sponsored GenerAction week opportunities were listed on the GenerAction website, where students were able to sign up by emailing the assigned project leader.