Spread the Message of EACEF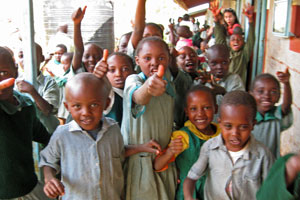 You can help EACEF achieve its mission of creating educational opportunity in East Africa and empowering young people by spreading our story. Simply copy the below text into an email to your friends and bring our message of hope to an even larger audience.
Sample Email
Dear (Friend's name),
I am writing to tell you about a dynamic young organization called EACEF, the East African Children's Education Fund. Founded by a group of high school students in 2007, EACEF focuses on empowering communities through education across Kenya, Uganda and Rwanda while engaging and involving young people across the United States in social action. Since its founding, EACEF has invested over a quarter-million dollars in educational infrastructure and programming in East Africa while engaging thousands of students across the US in its youth social activities.
Be sure to check out their website, www.eacef.org, and join their cause on Facebook!
To watch the EACEF's short new documentary, visit www.youtube.com/.
You can make a tax-deductible donation online at www.eacef.org/donate.
Sincerely,
(Your Name)