EMPOWER! Communities
After completing the steps listed under both Engineer! and Expand!, the EACEF team evaluated its initiatives and found their intended holistic approach lacking: With drought and economic hardships constant sources of worry, parents are often unable to provide food, never mind pay for testing and secondary school fees. Empower! therefore targets community interest programs in an attempt to combat the poverty of both the wallet and the mind. In order to encourage forward-thinking communities with goals of educational support, Empower!'s initiatives create avenues for parents to provide themselves with financial freedom.
Aiming for sustainable solutions, the following three initiatives empower the community – parents, teachers and students – to develop programs that promise attainable answers. Rather than solely relying on EACEF as a food aid provider, these individuals are able to engage in volunteer farming and microfinance-inspired crafts making to further support their environment.
Jamii Initiative*
The Jamii Initiative provides the final step under the Nafasi Process's goal of creating a holistic approach to educational restructuring. While the price of a Kenyan primary education is usually provided by the government, any excess schooling is left in the hands of parents who are more than willing but too often unable to pay. Jamii, a concept based on the microfinance model, is housed within a local center, near both Chania and Kirimara primaries, as specified by community leaders. Functioning as a meeting place for parents to engage in job training programs and tutorials, the program hopes to provide access to steady incomes for those coffee plantation workers often faced with uncertain work opportunities. Facilities are structured to focus on craft construction in areas such as sewing, weaving and jewelry design, with additional classes offered to teach proper material handling. Products are transferred and sold in Nairobi markets, with 50% of the proceeds cycling back into the hands of individual craftsmen. The final 50% will be set aside for an "Education Fund," with funds earmarked for further educational purposes ranging from national testing fees to secondary school payments. By filling in other programmatic gaps, Jamii hopes to provide individuals with the tools and agency to better their financial circumstances and ensure their children a decent education.
*Kiswahili for "community"
Embuzi Initiative*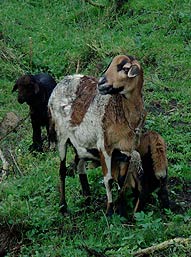 Based on similar models of community-sustaining livestock care, the Embuzi* Initiative seeks to act in the stead of parents for orphaned or disenfranchised children. With additional funds selected for school operating costs, the program outlines the oversight of 20 goats on land acquired adjacent to Shalom Junior School in Fort Portal, Uganda. Each female goat generally reproduces at a rate of roughly one to two kids a year, and with market prices of around $22 (50,000 UGX) per goat, each offspring sold will pay for the annual school fees of one child. In addition, EACEF provides the initial employment funds for a local parent to tend the flock in efforts to engage the community in hands-on education involvement.
* "Goat" in the Rotoro language of East Africa
Kurwanisa Enjara*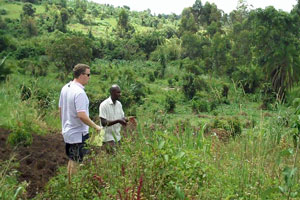 With underutilized land located near both Shalom Junior School and Kirimara and Chania primaries, EACEF has initiated the Kurwanisa Enjara program in an effort to involve community members in the support of the Rafiki Food Fund. With constructed dining halls already in place and food prices often on the rise, this initiative seeks to combine high-yield crops and volunteer labor to generate enough produce to provide substantial student meals. Noted as one of the more influential programs under the EACEF label, the food program has helped combat a growing necessity for nutritional aid. As unemployment rates fluctuate, parents are often unable to provide for their families, but the bridge between the Rafiki Fund and Kurwanisa Enjara will ensure a sustainable method for a consistent food supply.
*Rotoro for "fighting hunger"