ENGAGE! Youth in Social Action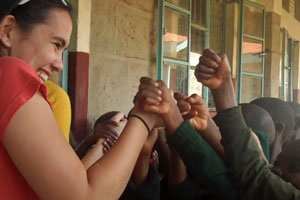 Based on the belief that young people have the power to serve as catalysts for social change, Engage! strives to provide international youth with the resources, opportunities and knowledge to channel their energy into measurable social impacts. After successfully maneuvering through the process of nonprofit formation, the EACEF staff feels strongly that the benefits of social involvement beyond the basic bake sale are vitally important. In expanding key skills that range from leadership development to financial oversight to international relations, students are able to engage in the critical lessons of philanthropic endeavors. With globalization and technology rapidly integrating the scope of national and cultural barriers, Engage! hopes to expand active opportunities to the rising global leaders of the generation of action.
Chapter Model
Operating under modified versions of the original EACEF model at the Westminster Schools, individual projects range from universities to high schools across the United States. Levels of commitment vary, with opportunities available for base level events to fully-fledged chapter formation. Guided by the EACEF staff and the step-by-step guidelines described in the EACEF Chapter Handbook, interested individuals can implement and encourage student activism in their own communities.
Examples of chapter involvement include both small-scale fundraisers and large-scale initiatives. One of the first major successes under the Engage! goal of youth activism is that of Swinton Griffith, a senior staff member at The Westminster Schools Chapter. After visiting specific communities in Rwanda and across East Africa, Swinton was able to use the EACEF model to bring educational opportunity to the area surrounding the Bisate School. Under the Nafasi Process, Swinton developed a proposal to revitalize Bisate through an innovative partnership with the Dian Fossey Gorilla Fund. His initiative brought EACEF to Rwanda for the first time and has so far raised nearly US$130,000 to bring measurable change to the Bisate community!