ENGINEER! Educational Infrastructure
In a partnered effort to address a lack of schooling facilities across East Africa, EACEF has worked with both local communities and other NGOs to develop several key infrastructure programs. Specifically targeting libraries, kitchens, and classrooms, each design is uniquely considered by all communities before final approval. Particular Engineer! Initiatives include:
Libraries:
EACEF addresses English-language literacy needs through the construction of fully equipped libraries and learning centers. Many schooling systems across the region, including those in Kenya, Uganda and Rwanda, require that all secondary school entrance exams be taken in English. Because of a general lack of funding, many students have little exposure to English-learning resources and therefore only a slim chance of continuing education past the elementary level. Each library, then, provides a hospitable environment that encourages reading both in and outside the classroom. Housing hundreds of children's books, desks and tables, the architectural addition also plays host to supplementary mentorship and community learning programs.
School Renovations and Classroom Additions:
EACEF refurbishes existing classrooms with new chalkboards, skylights and windows to create a better learning environment. Where dirt floors, crumbling walls and leaking roofs once defined the classroom experience, fresh paint and new light sources create an atmosphere more conducive to learning.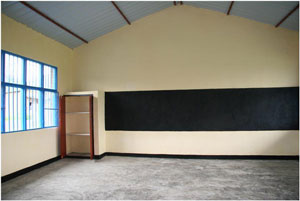 Due to issues like overcrowding or a lack of government funding, schools such as Bisate in Rwanda and Shalom in Uganda often face a daunting shortage of study space. To address this limiting factor, EACEF has also constructed brand-new classroom blocks, with all architectural plans designed around UNICEF specifications. New desks and chairs, along with chalkboards and bookshelves, compliment the infrastructure additions to create a model classroom environment.
Kitchens and Dining Halls: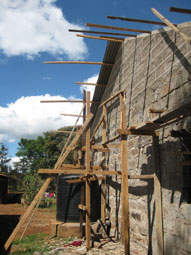 Due to local food insecurity, many students eat only one meal per day, often consisting of a cornmeal-based porridge. Because of the students' inability to concentrate under such circumstances, the school has had to send some children home early, and in more drastic cases, students have forgone their studies entirely to enter into the migrant labor workforce. To combat this endemic issue, EACEF constructs kitchens and dining halls made to commercial standards with energy-efficient gas stoves that have the capacity to feed hundreds of children every day.
Rainwater Tanks and Latrines:
With proper sanitation a luxury most communities simply cannot afford, EACEF seeks to create healthy environments that allow students to reach their full potential. To that end, EACEF constructs rainwater collection tanks and latrines to improve sanitation, contributing to a more conducive learning environments.