EXPAND! School Programming
With class sizes sometimes numbering over 50, students lack the vital individual attention necessary for success. Similarly, teachers often have both the passion and the patience but not always the resources or experience with specialized methods to address the challenges of teaching in underfunded, overcrowded schools. Other extenuating circumstances such as malnutrition and a lack of family funds for school uniforms can hinder a student from reaching his-or-her full potential. Therefore, EACEF, in coordination with its international and local partners, has designed a host of initiatives, such as mentorship and teaching programs, to help community stakeholders raise the standard of education at each partner school.
School Food Program: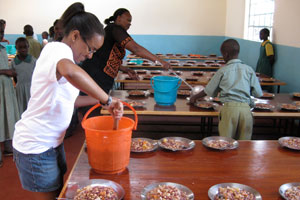 In its newly constructed dining halls and kitchens, EACEF and its partners provide all food supplies and equipment necessary to start school food programs. Responsible for feeding between 150-500 children per day, the program ensures that every student receives basic nutritional necessities to allow him or her to achieve at their full potential. Rather than perpetuating a system of handouts, however, EACEF's food program encourages community ownership by engaging the help of both parents and local organizations to guarantee the food supply. It is envisioned that full ownership of the food program will eventually lie in the hands of community organizers, who will oversee volunteer farming operations on idle land given over to school use.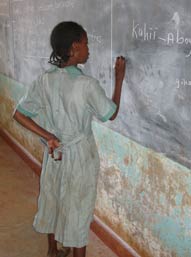 Peer Mentorship Program:
EACEF and its partners provide innovative mentorship opportunities between students of primary schools and senior schools. Based on the initial success of the mentorship program with Mount Kenya Academy and Kirimara Primary School, the program inspires a cooperative spirit between primary and secondary school students through weekly mentorship meetings. During each tutoring session at the newly constructed libraries, tutors provide individualized attention and help with the student's weaker subjects. The mentors additionally serve as role models for the primary school students who may not have otherwise had access to someone who had progressed to secondary school.
Teacher Continuing Education Program: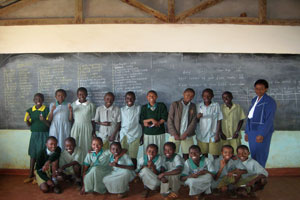 The Teacher Continuing Education Program seeks to better equip EACEF partner school teachers with the skills and best practices necessary to meet the demands of a challenging classroom. Teachers are able to learn the latest methods of instruction as well as engaging activities to better convey certain concepts to their students.
With the introduction of new learning resources and infrastructure, EACEF believes in the importance of a continuing community dialogue on the subject of how best to target both the students' struggles and the implementation of new solutions. The Teacher Program therefore also strives to provide an open forum for a wide discussion of topics, with issues ranging from how to combat the drastically high rates of young female drop-outs to encouraging better health observations both in the classroom and at home.
School Supplies Program:
The School Supplies Program aims to provide uniforms, shoes, classroom supplies and athletic equipment for acutely underprivileged primary school students. Many children in rural areas of East Africa walk to school barefoot and must wear the same uniform throughout their school years. Moreover, students who cannot afford or properly maintain a school uniform are often barred from attending class, increasing rates of truancy and drop-outs. Thus, the Program will ensure that a lack of clothing and other supplies will not limit these children's education.
Student Health Program:
Combined with the School Food Program, EACEF's Student Health initiatives aim to dramatically reduce targeted health issues. Through the Program, EACEF constructs new latrines to combat cholera, as well as rainwater collection tanks to reduce waterborne illnesses from consumption of contaminated water. In addition, classes led by EACEF mentors have taught girls how to properly deal with coming of age, while school-wide seminars have informed students about the risks of sexually transmitted diseases and how to implement sanitation practices at home.