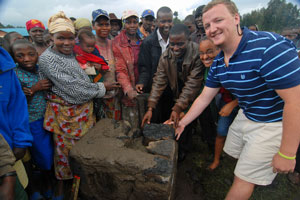 Overview
As a partnership between EACEF and the Dian Fossey Gorilla Fund International, the Bisate Project oversaw the construction of classrooms, a computer lab and sanitation facilities for Bisate Primary and Secondary Schools outside Ruhengeri, Rwanda. The Project also hosts innovative community and academic enrichment programs such as conservation education classes led by DFGFI.
Project History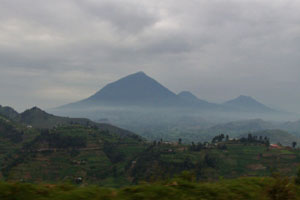 Located in the mountains of Northern Rwanda in one of the most densely populated regions in the world, Bisate serves close to 2,000 students with a student to teacher ratio of 73:1. While the primary school was originally founded in 1971, a secondary school opened in 2008 to serve the area's need for higher education. Heavily affected by the Rwandan Genocide in 1994, many of the students lost parents, siblings, or other relatives in the chaos and civil war. Bisate's surrounding communities, however, have since prospered under reconstruction efforts as well as their proximity to Volcanoes National Park and its endangered mountain gorillas: Through a flagship program at the Karisoke Research Center, the Dian Fossey Gorilla Fund has provided Bisate with health care and educational support, notably in the area of conservation instruction.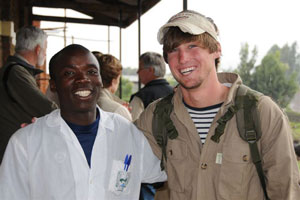 In October of 2008, EACEF staff member Swinton Griffith visited schools in East Africa, including the Bisate School in Rwanda. Returning home with the vision of helping re-determine educational standards at Bisate, Griffith partnered the EACEF model of infrastructure and programmatic improvements (see Nafasi Process) with the Dian Fossey Gorilla Fund International's on-the-ground initiatives.
Status - COMPLETE
In May of 2009, EACEF staff members laid the cornerstone for a new six-classroom structure built to UNICEF specifications. In January of 2010, the first phase of the Project, consisting of a six classroom block, was completed. To view the final report and see pictures of the event, click here. Subsequently, a block of classrooms were renovated and the school was provided with computers.