Overview
Sitting above fields of coffee plants, Chania is located about a mile down the road from EACEF's first partner school, Kirimara Primary School. Serving a similar population, Chania struggled to give academic opportunity to children from families who struggle under incredible economic burdens.
Project History
The first school that EACEF founder Andrew Sugrue ever visited in East Africa, Chania had been the site of both Mount Kenya Academy's first community service outreach and the site of the Children's Literature for Children Foundation's library programming. Sugrue witnessed the profound effect that the library was having on literacy rates and replicated the model at Kirimara. However, once the continuing needs such as hunger, clothing and economic empowerment became evident under the Nafasi Process, EACEF staff members returned to Chania in 2008 to evaluate the needs of the school.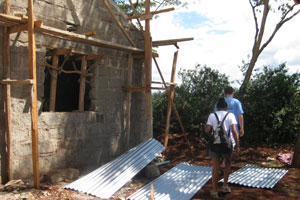 Status - COMPLETE
After CLC completed the library in 2006, EACEF constructed the new Kitchen and Dining Hall complex and renovated the school's eight classrooms in 2009. A large local landowner in Kenya further funded santitation facilities, including boys' and girls' restrooms. Mount Kenya Academy continues to oversee the school feeding and peer mentorship programs.