Overview
Situated just outside Nyeri, Kenya in a sea of coffee fields, Kirimara was the first school to partner with EACEF in a collaboration that has provided the basis for the Nafasi Process. Educating the children of migrant day laborers, Kirimara serves a population faced with high unemployment, famine, drought, and low levels of schooling. In the first year of EACEF's programming, Kirimara students improved over 7% on their KCPE examinations.
Project History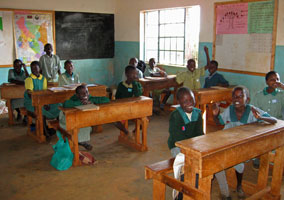 Andrew Sugrue first came into contact with the Kirimara community while on the Mount Kenya Academy Exchange program in 2007. Walking past the school on a tour of the Gamerock village and surrounding area, Sugrue noticed the school's state of disrepair. He noticed classrooms that had leaking roofs and dirt floors, chalkboards crumbled off the walls and light was dim and unreliable. After meeting the students, however, he realized that many individuals showed both passion for learning and a potential left uncultivated. Thus, Sugrue met with members of the community, teachers, parents and officials, and in partnership with Mount Kenya Academy under Charity Mwangi, developed a holistic plan to address specific educational setbacks. After Sugrue returned to Kirimara in 2008 and witnessed the drastic upward trend in the schools performance, the Nafasi Process was created to replicate the program's success at schools across East Africa.
Status - COMPLETE
In the summer of 2009, Kirimara's new dining hall and kitchen were completed, which now oversee the provision of over 200 meals a day by EACEF's local partner, Mount Kenya Academy. Keeping students focused and energized so they are ready to learn, the new Food Program has had an incredible impact and has drastically limited the effects of the current drought on the student population. In May of 2008, EACEF completely refurbished the entire school complex with new roofs, reconstructed walls, permanent flooring, windows, skylights and chalkboards. As part of the Beverly Gregory Library completed in January of 2008, EACEF partnered with Children's Literature for Children to stock the space with books and other learning materials. Under the Mentorship Program, seconday school student mentors from Mount Kenya Academy work one-on-one with children at Kirimara. While there, students meet with their senior mentors in the new library to practice reading, review their lessons, and receive individualized attention on the subjects with which they are struggling.