Overview
Located in Fort Portal, Uganda, the Shalom Junior School project is a partnership between EACEF, Shalom founder and director Stanley Musoni, and the village of Katenbere. With the vision of serving the ignored local population, Shalom operates as a private school and offers classes, beginning with pre-primary to Standard 8, to children who otherwise would not be attending school.
Project History
Inspired to help rebuild the western region of Uganda, Stanley Musoni left his job as Principal of Mount Kenya Academy and returned to his boyhood home of Fort Portal to address the lack of adequate local schooling. Western Uganda had witnessed both the rise of the guerilla forces that eventually toppled Idi Amin as well as the subsequent turmoil during the Congo Wars. In response, Stanley envisioned a school that would both serve as an economic anchor for the rural region as well as a means for improving the lives of his countrymen.
EACEF Director Andrew Sugrue met Stanley while at Mount Kenya Academy, and Sugrue was moved by the educator's vision for the school. The following summer, Andrew visited Western Uganda and began an EACEF partnership with Shalom Junior School. With the goal of reaching students through Standard 8, Shalom has enlisted EACEF's help in the construction of classrooms and other necessary school facilities. In May of 2009, Andrew and Vice President of Community Relations Alexis Mitchell inspected the progress and met with teachers, parents and community leaders to better understand the issues plaguing the region. Members of the partnership created a long-term plan that intends to transform Shalom into one of the premier primary educational institutions in Western Uganda. EACEF hopes to continue this relationship while helping Shalom provide educational hope for a population long dismissed.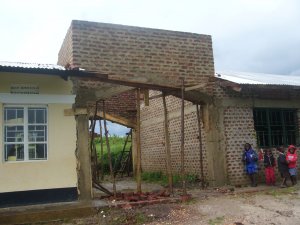 Status
Currently under construction, Shalom so far hosts two out of five intended classrooms and administrative offices. Pre-primary and Standard 1 classes began in January of 2009, and classes for Standard 2-4 are in the process of being enrolled. EACEF is currently working to provide an additional four classrooms to accommodate Standard 5-8, as well as a library, dining hall and kitchen, dormitories and a playground.