Overview
Located outside Fort Portal, Uganda in the village of Katentebere, the Shalom Project supports the construction of a new primary school that will serve as the anchor of a heavily marginalized community. With the vision of serving the often-ignored local population, Shalom operates as a private school and will offer classes, beginning with pre-primary to Primary 7.
Location and Issues
With a total population of between 7,000-8,000 people, the rural village of Katenbere has been plagued by a variety of endemic issues such as high HIV/AIDS and malaria prevalence. A general sense of hopelessness in the community has further contributed to widespread substance abuse. The effects of HIV/AIDS are particularly apparent, as between 500-1000 of the 2,000 children living in Katentebere are orphans. This demographic catastrophe affects all strata of the local society and forces older siblings to take on roles far above their age or grandparents to continue back-breaking labor in the fields to provide food for their orphaned grandchildren. The typical family engages in minor subsistence agriculture, sometimes supplemented by casual labor if it can be found. As such, most families are "cash-less" and have very limited capital for food and school fees. Roughly 50% of students in the area travel great distances to attend over-capacity government schools, some with over 100 students per teacher. Other private schools in the region charge around 100,000 Ugandan shillings per term, outpricing the vast majority of families. Thus, Shalom offers a great value of small class sizes with school fees competitive with those charged by government schools.
Project History
Inspired to help rebuild the western region of Uganda, Stanley Musoni left his respected job as Principal of Mount Kenya Academy Senior School and returned to his boyhood home of Fort Portal to address the lack of adequate local schooling. Western Uganda had witnessed both the rise of the guerilla forces that eventually toppled Idi Amin as well as subsequent turmoil during the Congo Wars. In response, Stanley envisioned a school that would serve both as an economic anchor for the rural region as well as a means for improving the lives of his countrymen.
EACEF Founder Andrew Sugrue first met Stanley while on an exchange program at Mount Kenya Academy and was moved by the educator's vision for the new school. The following summer, Andrew visited Stanley in Western Uganda, and together they laid the foundation for EACEF's strong partnership with Shalom Junior School. Since that time, Shalom has grown from an inspiring man's dream into a functioning school that serves as an economic and social anchor of the local community. EACEF has been intimately involved in the planning and operation of Shalom since its founding. As part of its long-term plan to transform Shalom into one of the premier educational institutions in Uganda, EACEF has funded the construction of three classroom blocks with room for 250+ students, a school bell tower, guard house and gate. Pre-primary and Standard 1 classes began in January of 2009. Further classes have since been rolled out as the school has developed. Additionally, the Fund has worked with the community and school to implement a number of successful sustainability projects.
Sustainable Solutions to Endemic Issues
As a result of widespread malnutrition and hunger in the surrounding community, Shalom maintains a school feeding program that provides students with breakfast and lunch every day. Believing that community ownership is key to the success of micro projects, EACEF encourages its stakeholders to propose solutions to their own problems. As a result, the community of Katentebere has instituted a number of small-scale projects to sustain key operations of the school. For instance, community and school leaders designed two initiatives, the Embuzi Program and Kurwanisa Enjara, to provide the school with steady funding for the subsidized feeding program. Under the Embuzi Program, young goats are purchased and raised to maturity. The successful trial run of seven goats (five females and two males) at the school has allowed for the expansion of the program to include 26 goats (25 females and 5 males) which will fully sustain the school feeding program in perpetuity.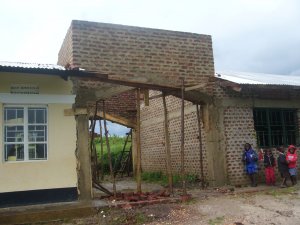 Status
Currently under construction, Shalom hosts nine classrooms, a library, an art room and administrative offices. EACEF is currently fundraising for the construction of a dining hall / kitchen, permanent dormitories, and a playground and sports facilities (soccer fields, volleyball court and basketball court). EACEF is also fundraising to outfit the newly constructed library and art room with furniture and supplies. For more information, see the 2014 Fact Sheet.