The EACEF Story:
Mission:
EACEF collaborates with trusted local partners to invest in educational infrastructure and sustainable programs at underfunded schools in East Africa.
Vision
EACEF believes that primary schools can anchor local communities and catalyze future economic growth in rural East Africa. To that end, EACEF directly engages local stakeholders to create customized school development plans so as to promote sustained community ownership. EACEF is also committed to providing a role for motivated international youth to participate in the development process. Through its replicable model of social engagement, EACEF taps the power of energetic young people to directly contribute to education development in East Africa, while promoting cross-cultural awareness and fostering a proactive attitude towards social and economic injustice in the world.
Founding Story
As a 17 year old junior in high school, Andrew Sugrue traveled to Kenya in March of 2007 on an endowed exchange program through The Westminster Schools of Atlanta. Looking forward to his first safari and the opportunity to reconnect with friends from the previous exchange trip to Atlanta, Andrew was in for a truly unexpected, but altogether life-changing experience. Traveling throughout the country, Andrew came to know energetic young students yearning for the opportunity to succeed in school. Yet their enthusiasm for learning was contrasted by an utter lack of educational resources at public schools and by a myriad of endemic social issues that trapped their communities in a perpetual state of poverty. Classrooms were dark and crumbling and what was deemed a library was simply a single shelf with four or five books under a leaky roof. Economic stagnation and inequitable land distribution forced parents into migrant labor and left them often unable to provide for their families. The few children who managed to attend school were going hungry without a proper lunch, and their attention in the classroom suffered as a result. Finally, the students had few role models or mentors to help them with their studies and provide a source of inspiration in a seemingly hopeless situtation. As a result of these compounding issues, children in rural areas were at a significant disadvantage and had some of the lowest levels of secondary school matriculation.
Andrew was surprised to find that few organizations in the area were evaluating the educational atmosphere at these schools in a holistic manner. Rather, they tended to finance one-off projects targeting singular issues such as literacy, health, hunger or community empowerment. From his time spent with students, teachers and parents at these schools, Andrew believed that a sustained partnership with the school community was a prerequisite for real improvement and that true success would only come when all of the major issues affecting student underperformance in schools were addressed in tandem rather than piecemeal.
In subsequent meetings with Charity Mwangi, Founder of Mount Kenya Academy (MKA), and Stanley Musoni, then Principal of MKA's Senior School, Andrew articulated what he saw as the intertwined issues plaguing primary education. Together they created a plan for sustained improvement in educational standards at their first partner school, Kirimara Primary. With a vision for holistic change and the support of these two respected educators, Andrew knew he had to do something. Yet little did he know just how far the idea would go...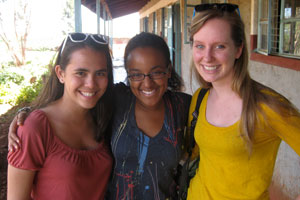 Emboldened by the possibility of affecting real change in the world, Andrew worked with a group of like-minded students consisting of co-founders English Cook, Bradley Baird, and Alexis Mitchell to form EACEF in September of 2007. In just the first six months of its work with Kirimara Primary School, EACEF witnessed a 7% increase in the students' annual standardized test scores (KCPE), one of the most dramatic yearly increases in all of Kenya. After successfully completing the outlined infrastructure improvements and school programs at Kirimara, the team realized the need to bring this model of change to schools throughout East Africa and developed the Nafasi Process to achieve this end.
EACEF Today
Since Andrew's first conversations with Charity and Stanley back in March of 2007, EACEF has grown into a multinational organization serving communities across Kenya, Uganda and Rwanda. EACEF started as a small-scale local initiative to improve performance at a single rural primary school outside Nyeri, Kenya through the construction of a $12,000 library. With the support of strong partners, the organization quickly morphed into a multi-faceted operation holistically improving educational environments in communities across East Africa.
To date, EACEF has invested over $280,000 in education infrastructure. At four schools in three countries, EACEF has built or restored 35 classrooms, three libraries, two kitchens / dining hall complexes, five water tanks and five sanitation facilities. Additionally, EACEF's local partners have implemented two mentorship programs and two school feeding programs. Together, EACEF and its partners work with more than 2,500 students across East Africa.